Is Confirmation a Disappearing Rite of Passage?
by Bud Weidenthal
It is difficult to exaggerate the pride of a grandfather as he marches with his daughter and twin granddaughters in the procession marking the moment of "Confirmation" at The Temple - Tifereth Israel.

For four generations of our family (including my father before me in 1904) this century-old Shavuot-related rite of passage at Reform temples, and now in most Conservative synagogues, has been a meaningful and inspiring life cycle event for the young people involved, as they move into their lives in the Jewish community.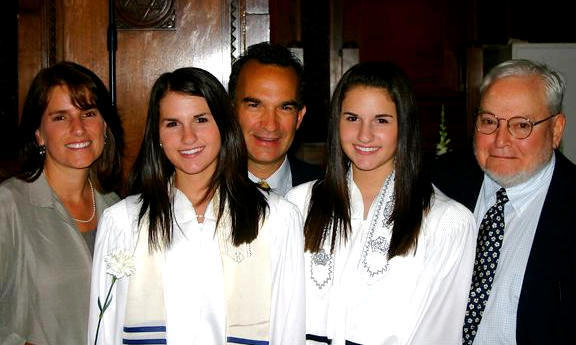 I am at the right at the June 2006 Confirmation of my granddaughters.
And that's the way it was intended by the leaders of the movement to reform Jewish practices in Germany in the 19th century. They attempted to create a meaningful modern ceremony for young people, replacing Bar Mitzvah, to mark the festival of Shavuot, called "the seminal moment in Jewish history — receiving the Torah at Mount Sinai."
But as I reflected recently on that rite of passage, it struck me that Confirmation as it was celebrated by my father in 1904 with Rabbi Moses Gries, by me in 1941 with Rabbi Abba Hillel Silver, by my daughter in 1976 with Rabbi Daniel Jeremy Silver, and by my granddaughters in 2006 with Rabbi Richard Block, has, at best, lost its footing.
In those days the Confirmation ceremony marked the pinnacle of Jewish education for young Reform Jews. During the second half of the 20th century the event was marked by large numbers, with perhaps all eligible youngsters participating. There were full sanctuaries, with standing room only at times, large family gatherings and some gifts. It was "coming of age" for young modern Jews. It was not unusual to have over 100 in the large Reform Temples in the era.
Recent years have see a dramatic decline in the number of young Jews being confirmed. Audience size has dissolved and the event itself seems to have lost much of its meaning. Many believe that the Reform movement's revival of Bar Mitzvah in the 70's, and more recently the celebration of Bat Mitzvahs, has altered, perhaps forever, the size and significance of the Shavuot-related Confirmation rite of passage. As an example, in the year 2006 when my twin granddaughters were confirmed by Rabbi Richard Block, only 29 participated in front of a scattered audience, yet more than 80 in the same class had been B'nai Mitzvah. These statistics are fairly consistent in other area Reform congregations.
There have been mixed reactions and responses to what has become a national conversation among modern Jewish leaders. On the website of the Union for Reform Judaism (URJ) Rabbi Richard Chapin of Greenwich Connecticut has declared that Bar/Bat Mitzvah in the Reform movement is seen as becoming "the exit ramp away from Judaism" Adds Rabbi Fred Guttman of Greensboro North Carolina: "Within our movement there are those who have advocated doing away with Confirmation." (see links below)
Needless to say, these rabbis are quick to point out that neither congregation has considered abandoning Confirmation. Instead, the Connecticut congregation has moved Confirmation back a year, so it better meets the needs of a very busy and heavily scheduled generation in that upscale area near New York City. The North Carolina congregation has decided to align Confirmation with high school graduation. All Bar/Bat Mitzvah students are offered the opportunity to return to the temple for a very special "Confirmation" as they move into another phase of their lives. The rabbis report early successes.
In our Cleveland area, the rabbis and educators I have interviewed readily agree that the numbers of confirmands are down significantly since the advent of Bat/Bat Mitzvah. But they say that new and creative programming is bringing a new significance to Confirmation as a way to stimulate interest and to improve retention in the years following Bar/Bat Mitzvah. "The days of triple digit confirmations are gone" says Rabbi Joshua Caruso of Anshe Chesed - Fairmount Temple. But none are ready to abandon the ceremony and its educational/social values. Instead, they aim to make it a better, more meaningful life cycle event for those interested in making the commitment. "It's not for everybody", says Rabbi Caruso.
Perhaps the most far-reaching transition has come this year at Suburban Temple Kol Ami. According to Rabbi Eric Bram, the service will look much like previous years, but the changes will be dramatic. "We realize that the Jewish journey is not best seen in the rear-view mirror until such time as their own children come into view. Confirmation will not be a graduation from Jewish life." Instead the tenth grade confirmands received congregational membership certificates and were invited to become members of Suburban Temple, in their own right. They each received a letter from their parents telling them why it is important to continue as members in the temple and to continue their lifelong Jewish learning. (Parental involvement is being heavily stressed at all the congregations.)
"They are invited to pray, learn and join other adult members of our congregation. They will be invited to serve on committees, to be represented on our Board of Trustees, receive their own High Holy Day ticket. Their membership, largely independent of their parents will be extended to age 25."
At Fairmount Temple, Rabbi Joshua Caruso stressed that innovation has come to the Confirmation program but "we want to make sure that the door to Judaism remains open for those who do not come; Hoping that they will return to Judaism at some later time. I came back to Judaism in my 20's." he confides.
At Park Synagogue, which had the largest Confirmation class (33) this year, education director Terri Hochberg says that Confirmation has been a "big" tradition" since 1913. She says that while the numbers have been down for the past 20 years, those who continue are the most committed students. This year, as part of their ninth grade confirmation year program, students have studied with Federal Judge Dan Polster, examining ethics from Judaic and biblical text. "When to compromise and when to fight if you firmly believe you are right". Each confirmand read a statement about a moral or ethic issue, and the decision of whether to compromise or fight.
In an effort to inspire student to remain on a learning track, The Temple - Tifereth Israel, has unveiled for its congregation an Adolescent Education Institute aimed at inspiring continued Jewish education. The challenge is to make Jewish learning beyond Bar/Bat Mitzvah look and feel really different, indicates Cheri Ellowitz, Director of Education. Taking the lead from a study of the Philadelphia CAJE (Coalition for the Advancement of Jewish Education) group, a team of staff and Temple members helped create a new approach, which downplays traditional classroom work and rigid scheduling and puts the emphasis on excitement, flexibility and peer group excitement. Some key elements for creating change:
School after Bar Bat Mitzvah needs to look really different. New offerings include, Bible stories We Never Told You, How to support Israel on a College Campus, Jewish Mysticism and Yoga, Judaism and Food, Turning Text Into Rap.

Teens need programs that have them doing and contributing to the community. High school students serve as teachers aides, and work in community level projects as part of the curriculum.

Parents play the most important role in influencing their children to continue their Jewish education. Get them involved. We're not advocating a struggle every week in your house, but if something is really important to you and you know the long term benefits, your child will understand.

A student is most likely to continue if he/she has a friend going too. Much of Religious School is a social outlet for our students. It is really important if they have or develop friendships there.
As they say on an election night, the outcome of these and other creative efforts is "too early to call." The good news is that Confirmation is changing and the numbers of confirmands is no longer dropping. But what the future holds for Greater Cleveland or Greenwich Connecticut or Greensboro, North Carolina is still any rabbi's guess. ●
Bud Weidenthal