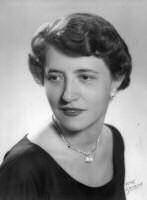 Martha J. Joseph 1917-2006
(photo ca. 1953)
Born in 1917 in Cleveland to Ralph and Ray Hahn Joseph.
Studied at Smith College, the U. of Dijon and the Sorbonne, where she specialized in Music and French.
President of the Women's Committee of the Cleveland Orchestra and the Cleveland Women's Orchestra, chair of the board of trustees of the Cleveland Institute of Music, president of the Women's City Club.
A longtime leader in Cleveland's cultural life, she helped create the Cleveland Arts Prize and to found the Cleveland International Piano Competition.
Frank Emil Joseph 1904-1996
(photo 1953)
Born in Cleveland in 1904.
Graduate of Columbia Law School, 1927
Partner with Jones, Day law firm.
Director of several of Cleveland's leading corporations.
A trustee of the Musical Arts Association (Cleveland Orchestra) for 40 years, he was its president for years and a principal force in creating Blossom Music Center.
Also was a trustee of Western Reserve University, Cleveland Community Fund, the Cleveland Museum of Natural History, Bellefaire and the Jewish Community Federation.