Unsleben is the small isolated town in German-speaking Bavaria from which 15 Jews came to Cleveland in 1839. We date the founding of our Jewish community to their arrival
On April 13, 2015 we received the email shown below, with four attached photos.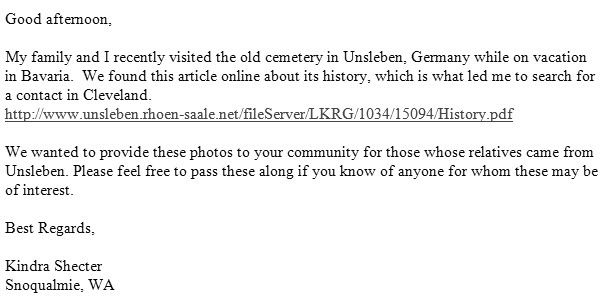 We have posted all four photos below, with thanks to Kindra Shecter and her husband Marc Shecter who took them They have given permission for their use and furnished caption text.

To read the pdf document on the history of Jewish Unsleben, click here. (It is unsigned and undated, but its reference to the Maltz Museum tells us it was written in 2006 or later.)

Arnold Berger webkeeper April 16, 2015
Postscript December 19, 2017
In the summer of 2015, just a few months after Kindra and Mark Shecter took the pictures shown below a major restoration of the cemetery took place. It is described (in English) on this German website The Lost Jews of Unsleben.