B'nai B'rith was founded in New York City in 1843. Its first Cleveland Lodge was started here in 1853, with Simpson Thorman as president. It is, according to the Encyclopedia of Cleveland History, our city's oldest service organization.
During the Civil War years, Clevelander Benjamin Franklin Peixotto, who was a B'nai B'rith district and national leader, led an effort to have the Midwest District tax its members a dollar a year for a charitable fund. Women from nine cities were also asked to raise money for the fund. In 1867 the District decided to create a home for Jewish orphans of the Civil War. It was established in Cleveland in 1868 and has evolved to become our nationally-known Bellefaire. Learn more ....
A Library of Congress exhibit "From Haven to Home" included this 1876 certificate of membership in B'nai B'rith. The building shown at the bottom of the certificate is the orphanage they established in Cleveland in 1868.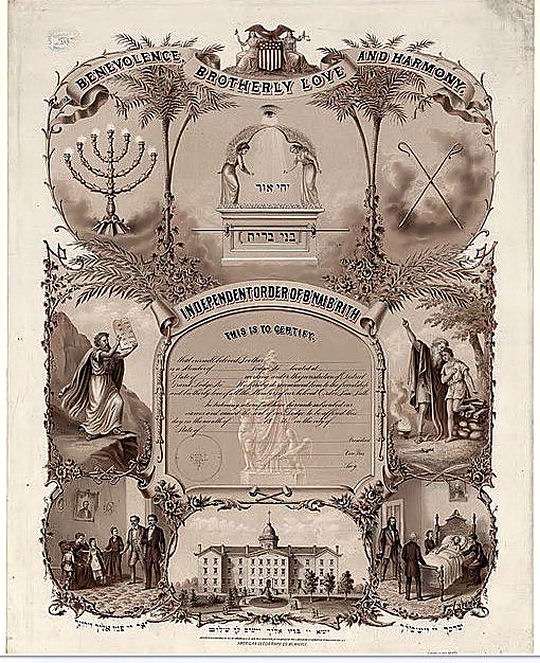 In 1912 the three Cleveland B'nai B'rith lodges - Solomon #16, Montefiore #54 and Baron de Hirsch #454 - merged and acquired the building, constructed in 1907 as Pythian Hall. The organization served an important purpose, bringing together active and involved Jewish men to address issues of Jewish concern.
In the years following, B'nai B'rith's membership grew rapidly with 12 new lodges formed in many neighborhoods. The lodges were men-only. In 1933, Heights Chapter 119 was formed, for women. (In 1990 B'nai B'rith Women separated from B'nai B'rith International and in 1995 adopted a new name - Jewish Women International.)
In the early 1940's, with all its members living far to the east, in Glenville, Mount Pleasant or the Heights, the B'nai B'rith left the building. In 1954 the Prince Hall Masons bought it.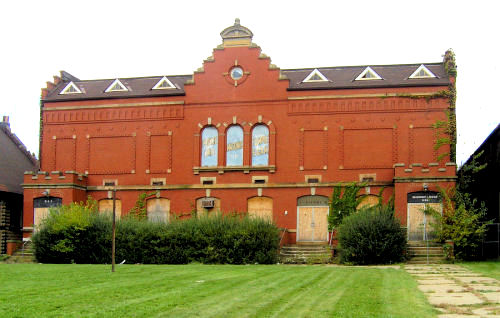 The former B'nai B'rith building, looking abandoned, in 2007 Photo Arnold Berger
The building occupies a place in Cleveland Jewish history for it was there on Sunday February 24, 1917 that Abba Hillel Silver, only 24 and in his first pulpit in Wheeling West Virginia, spoke. Alfred Benesch, then a trustee of The Temple, was active in B'nai B'rith regional affairs where he had met Rabbi Silver, also an active member. Benesch may have invited Silver to come to Cleveland. As Benjamin Lowenstein, president of The Temple, would later tell Rabbi Silver, all the trustees had attended and knew immediately that they had found their new rabbi.

In the early 1940's, its members having moved to Glenville and the "Heights, B'nai B'rith no longer used the building. It was acquired by the Prince Hall (African American) Masons and lost in a fire in 2010. More on the loss of this landmark.
"Today's B'nai B'rith International is a national and global leader in the fight against anti-Semitism and anti-Israel bias; provides senior housing and advocacy on issues of vital concern to seniors and their families; helps communities in crisis; and promotes Jewish identity through cultural activities." (courtesy B'nai B'rith International) ●