Friday, May 1 - I call the Cleveland Indians

On Friday May 1 I called the Cleveland Indians. After working through the call handling menu I reached an operator. I asked to speak to their Executive Vice President, Business, Dennis Lehman and I left a long message in his secretary's voicemail box.

< Dennis Lehman
Monday May 4 - my call is returned

Dennis Lehman returned my call on Monday morning. There may be a picture on the benches in Gateway Plaza, he said, but he know nothing about any commemoration of the location of the Eagle Street Synagogue within Progressive Field. Perhaps Bob DiBiasio, the Indians VP for Public Relations, might know.
Then I spoke with Bob DiBiasio. He, too, knew of no plaque within Progressive Field, but he invited me to come down and look for myself. It was best to visit while the team was out of town, so we set up a time on Wednesday morning May 6.

Bob DiBiasio >
Wednesday morning May 6 - I prepare for my expedition
Whenever I visit Progressive Field I wear my Indians baseball cap. With my new cap comes a story. My old cap, circa 1996, was adorned with a Chief Wahoo emblem. My three daughters all asked "Dad, how can you wear that cap?"


In response, I bought a new baseball cap last year. Annoyed that my old cap, a symbol of America's great game, had not been made here, I remember telling the man behind the counter "I don't want another cap made in Bangladesh!" "No problem." he replied. "They are all from China."

< My new cap has an inoffensive letter "I".
Later Wednesday morning May 4 - I meet Bob DiBiasio
I drove downtown from Shaker Square, parked on Ontario, and entered the lobby of the Executive Offices. The security was impressive. The attendant scanned my driver's license and gave me a photo-ID visitors badge. I was glad to see that the logo on my badge was an inoffensive letter "I".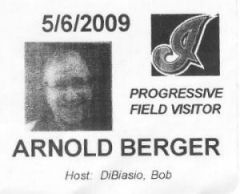 my visitor's badge (not actual size)


Then Bob DiBiasio came down to greet me.
We tour Heritage Park
Bob DiBiasio was very cordial and generous with his time. He told me that he had asked others and no one knew of such a plaque. "But let's look around" he said. Soon we had walked through the Executive Offices, down to the main entrance, and then parallel to Eagle Street out past left field, all the way to Heritage Park located behind center field.

Dedicated in 2007, Heritage Park is on two levels.

The upper level, shown to the left, has 14 pillars in a circle like a small Stonehenge. The floor is made of thousands of brick pavers bought by fans, with the proceeds to Indians charities.

The lower level (see below) is for the top 100 Indians of all time


The list was selected by Indians fans with the help of a panel of baseball writers and historians and is online.

I examined every plaque on every pillar and all the walls. Then I walked the lower level carefully.

Dennis Lehman and Bob DiBiasio were right. Nowhere does this place mention that it was once the home of Cleveland's first synagogue building.


from Cleveland Seniors
In honoring the memories of these players the Cleveland Indians have created a special space, one that invites reflection and connection.
But I had arrived with a mind set on uncovering a different past. As I stood there I was moved by remembering that here, more than 160 years ago, had been the bimah (the elevated platform) and the Ark of Anshe Chesed Congregation. In the Ark (typically a wooden cabinet) was their Torah scroll - the Five Books of Moses written in Hebrew on parchment - that member Simson Hoffman (Hopferman) had brought with him in 1839 from Bavaria.
In this place the men of Anshe Chesed prayed using books printed in German and Hebrew, heard a sermon in German, and could look up to the mezzanine where their wives and daughters sat. How grateful they must have felt to be in a country that respected their rights and had even given them land for their synagogue. (Learn more about "the great gift") And thankful too that their small community of peddlers, merchants and tradesmen had been able to build this house of worship only seven years after their arrival.
Then Bob and I walked to a gate. I thanked him, we shook hands, and I stepped out on to Eagle Street, sorry that we had not found the plaque.

A correction:
As explained on our Eagle Street Synagogue page, my estimate of where the old synagogue had stood was wrong. It was perhaps 100 feet south of Heritage Park. Though Heritage Park is the best spot for contemplation, it is doubtful if one could stand at the true location - in center field.
Driving through Gateway Plaza
As I drove away I found myself in Gateway Plaza, between Progressive Field and the "Q" (Quicken Loans Arena). Then I remembered Dennis Lehman's comment that there may be something on what he had called "the benches."
There to my left was a huge planter, whose wide sides are like benches. It has been there since 1994, public art that commemorates the old Central Market that was nearby, where Woodland and Broadway Avenues began. (The market was lost in a fire in 1949.)
I had passed by this planter many times, but always when rushing to a ball game or walking back to the Rapid in a crowd at night. It was time for a good look so I parked my car at the curb, took out my camera, and started toward the planter.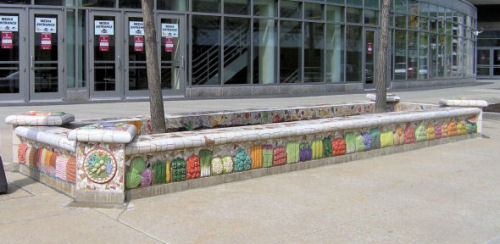 The Central Market Planter - Bench