Our Moses was born in Unsleben Bavaria in 1805. He married Yetta, born in far away Saxony, 15 years his junior.

His place in the history of Jewish Cleveland is secure, for in 1839 he led the group from Unsleben Bavaria here. Joining with the few Jews already here, they would make a Jewish community in this town of about 3,000. There was a minyan now and one that took its responsibilities very seriously.
In May 1839 Lazarus Kohn, the Unsleben teacher, entrusted what we now call the Alsbacher Document to Moses and Yetta. They and their descendants would protect it until 1976 when it became the central document in Cleveland's Jewish Archives.
He was a founder of The Israelitic Society and of Congregation Anshe Chesed.
Moses was the son of Aaron, who was the son of Moses. In 1840 he named his only son, born here Aaron, In 1874, months after his father died, Aaron named his first son Moses. Then the long line of male descendants ended.
This picture was probably made in the 1860s when he was in his late fifties, the father of four grown children and a successful meat dealer. His home on Woodland and East 22nd Street would be home to his children, then grandchildren until 1954. Urban renewal, as it was then called, tore it down in 1959.
Moses Alsbacher died in Cleveland on March 20, 1874. His passing was not noted in the newspapers nor in the county records nor in the burial register at Willet Street Cemetery. His body now lies in an unmarked grave in Mayfield Cemetery in Cleveland Heights Ohio.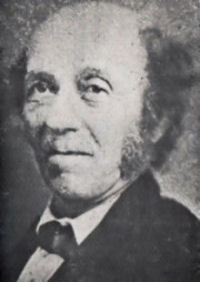 Photo: Jewish Independent, Probably provided by Rena Alsbacher through Abe Nebel.