This page was written in 2010 when Federation changed its name, updated in 2011 when its new logos were introduced, then updated again in October 2017 to note the improved logo.
In 1932 the National Council of Jewish Federations and Welfare Funds was formed. By 1979 it had become the Council of Jewish Federations. In 1999, the Council of Jewish Federations merged with the United Jewish Appeal to become the United Jewish Communities. In October 2009 United Jewish Communities became The Jewish Federations of North America. Its "rebranding" campaign included a new logo, shown below. The nearly uniform look of Federation websites across North America suggests that the redesign was done centrally, not by local Federations.

Soon most North American Jewish Federations began to change their identity in support of this national "rebranding" objective. In April 2010 our Federation changed its name from "Jewish Community Federation of Cleveland" to "Jewish Federation of Cleveland". Letters in the Cleveland Jewish News, noted that the word "community" came from the Jewish Community Council that merged with The Jewish Welfare Fund in 1951 to create The Jewish Community Federation.

In May 2010 Federation introduced a new logo. Note that OF CLEVELAND starts under the "d" of Federation.

The words OF CLEVELAND shrink
Then a smaller version of Federation's new logo was created for web use. It reduced the size and weight of "OF CLEVELAND" to a point where they were unreadable by your editor's old eyes. We look forward to a more readable logo soon. (written in 2011)
The OF CLEVELAND is now unreadable in the new logo, shown below, actual size.

The 2016 Design Change
On September 29, 2016 a revised logo was introduced. OF CLEVELAND was twice the size shown above and easier to read. It now starts under the "h" in Jewish, not under the "r" of Federation. We are glad to see this improved design. Arnold Berger October 24, 2017

Below: the logos compared
The first logo show below is the new design of September 2016. Below it is the former design. Now, when the logo is used about half this size in an email or on a web page, the words OF CLEVELAND are still clear and easily read.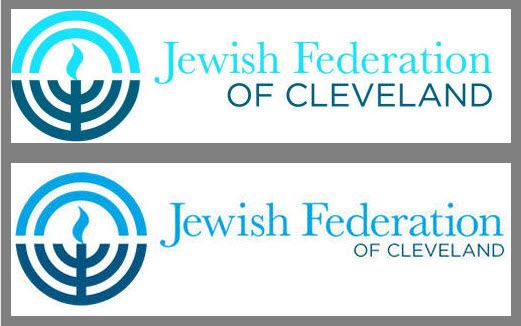 Learn more