The Aaron Garber Library began as the library of the Bureau of Jewish Education. It was named to honor the memory of Aaron Garber who died in November 1938.

Founded in 1924, the Bureau moved often in its early years:

1924 - Old Arcade (Euclid and East Third)
1926 - Ulmer Building (33 Public Square)
1935 - 1158 East 105th (one street south of the Cleveland Jewish Center)
1943 - 10501 East Blvd. (where the VA Hospital is today)
1953 - 2030 South Taylor Road, Cleveland Heights

In 1993, after an intensive community study, the Bureau of Jewish Education reorganized to become the Jewish Education Center of Cleveland (JECC), its offices remaining at 2030 South Taylor Road. To learn about the change and its intent, read the Cleveland Jewish News stories of September 10, 1993 and September 17, 1993.

Learn more on the Encyclopedia of Cleveland History:

AARON GARBER

Born in Lithuania in 1877, came to Cleveland in 1905. Admitted to the bar in 1911, practiced law and became a leader in Zionism and Jewish education. A founder and president of the Cleveland Hebrew Schools and a leader in the Bureau of Jewish Education. Died in 1938, at age 61. Read his obituary,


The clippings below are from the Cleveland Plain Dealer and Cleveland Jewish News Digital Archive. They show how the library grew, moved with the Bureau to South Taylor Road, then moved to the College of Jewish Studies, and continued to expand.

ADVERTISEMENT
Cleveland Jewish News June 1969
BELOW: NEW HOME OF THE BUREAU OF JEWISH EDUCATION ON SOUTH TAYLOR ROAD
Cleveland Plain Dealer January 11, 1953
BELOW: THE LATEST TECHNOLOGY AT THE GARBER LIBRARY
Cleveland Jewish News January 29, 1965
BELOW: RARE BOOKS, REPRINTED IN ISRAEL,
COME TO THE GARBER LIBRARY
Cleveland Jewish News February 6, 1970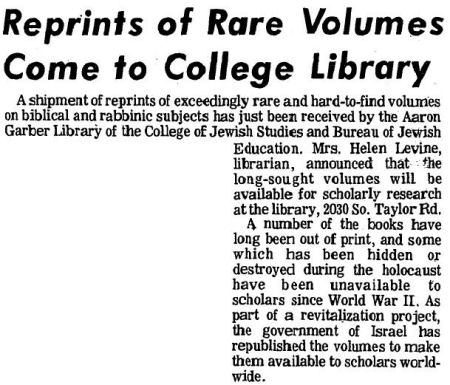 BELOW: GARBER LIBRARY MOVES
Cleveland Jewish News March 6, 1976

BELOW: BOOK SALE
Cleveland Jewish News Aug.25, 1983
BELOW: CLEVELAND FOUNDATION AWARDS GRANT TO HELP CREATE LIBRARY
Cleveland Plain Dealer January 15, 1988
The Cleveland Foundation makes a grant of $124,000 to help create a home for the library in the College of Jewish Studies. See Plain Dealer story.
BELOW: A NEW EXPANDED GARBER LIBRARY WILL OPEN ON MARCH 22, 1989
Cleveland Jewish News March 22, 1989
BELOW: BRAVERMAN GALLERY IS DEDICATED ON SEPTEMBER 14, 1989
Cleveland Jewish News October 16, 1989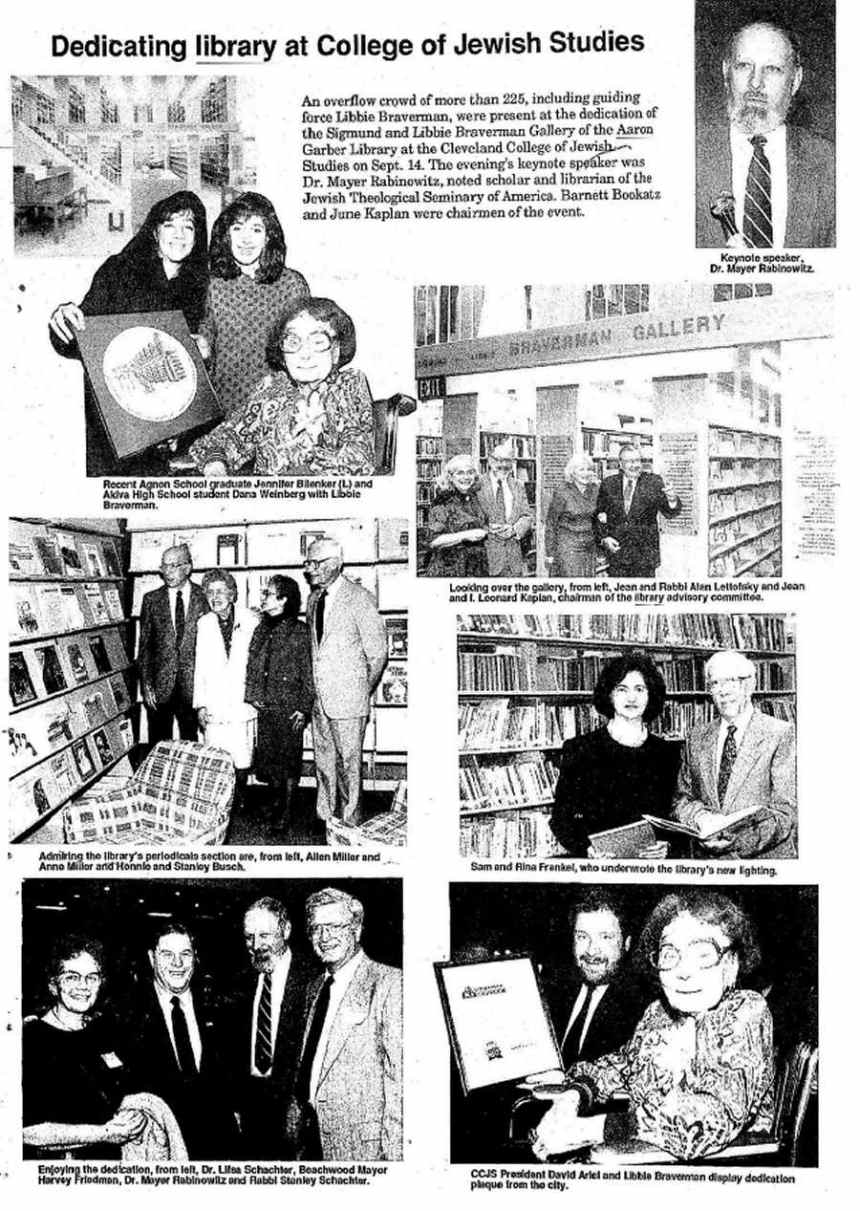 BELOW: LIBRARY CATALOG TO GO ONLINE AS PART OF CWRU CATALOG
Cleveland Jewish News July 11. 1997
BELOW: LIBRARY RARE BOOK EXHIBIT FOR JEWISH BOOK MONTH
November 2010

Celebrating Jewish Book Month 5771

The library staff, after identifying and describing the rare and special books in the Aaron Garber Library collection, planned an exhibit on the history of Jewish printing and publishing to highlight some of these special treasures.

Learn more on the Federation website



BELOW: SIEGAL COLLEGE, CWRU TO FORM PARTNERSHIP
Cleveland Jewish News February 3, 2012

This front page CJN news story described how this partnership would enhance adult education. A careful reading of its second page reveals the planned closing of Siegal College, with its faculty, for-credit courses, BA and MA degrees.

It also notes that the Aaron Garber Library will be under a different Federation agency - the Jewish Education Center of Cleveland (JECC).

As this page shows above, this change can be viewed as a child moving home. The JECC began in the 1920s as the Bureau of Jewish Education; the Aaron Garber Library began as the Bureau's library.

Read the rest of the story in the Cleveland Jewish News Digital Archive.
BELOW: RETIREMENT OF LIBRARY DIRECTOR JEAN LETTOFSKY
July 2013
The City of Beachwood Ohio declared June 30, 2013 "Jean Loeb Lettofsky Day". She was lauded for "bringing the library into the modern era by automating the library and forging a relationship with Case Western Reserve University", "using her vast Judaic knowledge to help many scholars and community leaders find information on all aspects of Judaism and religious life", and more. To read the proclamation on the city's website, click here.
On July 22, 2013 Friends of the Aaron Garber Library celebrated her 30 years of service. The Cleveland Jewish News reported on it in their August 2 issue.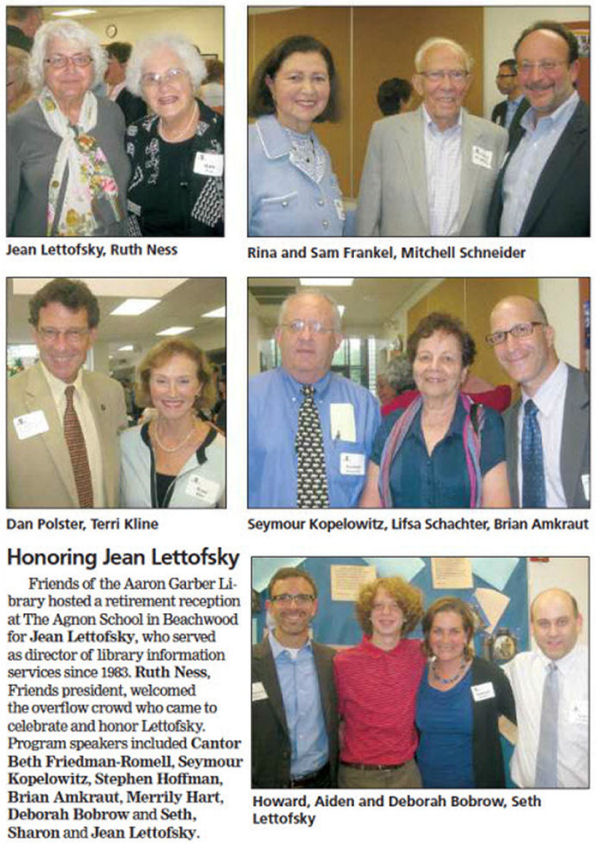 © Cleveland Jewish News
BELOW: ANNOUNCEMENT OF THE LIBRARY'S CLOSING
Cleveland Jewish News Friday August 15, 2014
Garber Library to close after 40 years;
Agnon to use space

ED WITTENBERG CJN Staff Reporter


The Aaron Garber Library in Beachwood – the central library of the Greater Cleveland Jewish community for nearly 40 years at that location – will close at the end of August, the Jewish Education Center of Cleveland announced Aug. 8.

The library was part of the former Laura and Alvin Siegal College of Judaic Studies, now known as the Siegal facility, at 26500 Shaker Blvd. It is adjacent to The Agnon School, and its closing will make way for a new library space for that Jewish community day school and its 340 students.

"The Aaron Garber Library has been an important part of our community," said Seymour Kopelowitz, executive director of the JECC. "We conducted an audit of usage by the community, and we learned that the library's usage patterns have changed now that books are digitalized and available in online, public and synagogue libraries."

The demand for those academic books ended after Siegal College closed in 2012, Kopelowitz said.

"We recognized that The Agnon School's current library facility could be more conducive for the number of children attending the school," he said. "We are delighted that The Agnon School will be able to use the library space to benefit a new generation of students."

Jerry Isaak-Shapiro, head of school of The Agnon School, said he's excited about the new space for his school's library.

"For a school, a library is an essential space, not only geographically but conceptually," he said. "A library is more than a repository of books; it's a representation of learning.

"So for us it's a beautiful space. It really represents libraries as they used to be. The Garber Library has a very important history in the Jewish community. Our hope is we'll both embrace that history and build a new future with our students as they begin to use the library."

Isaak-Shapiro, entering his 12th year as head of The Agnon School, said the school was "outgrowing the space" in its current library, which will be used as a classroom starting this fall.

"This (new space) will gave our librarian room to expand the book collection and to conduct larger reading groups and other activities related to library science," he said.

"It's an opportunity for us, and I certainly hope the spirit of those who built the library will still be maintained with our students."

The library first opened in the 1950s and was located at the Bureau of Jewish Education – which later became the JECC – in Cleveland. In 1976, the library moved to Shaker Boulevard in Beachwood to be part of Siegal College, then called the Cleveland College of Judaic Studies. The college was renamed the Laura and Alvin Siegal College of Judaic Studies in 2002.

Traffic at the library slowed after Case Western Reserve University in Cleveland partnered with Siegal College to create a new adult education initiative, the Laura and Alvin Siegal Lifelong Learning Program at CWRU, in 2012. With the closing of Siegal College in Beachwood, the JECC, an agency of the Jewish Federation of Cleveland, became responsible for the library.

"The library was known for its strong collections on Israel, the Holocaust, Hebrew and the field of education," said Jean Lettofsky, who served as its librarian from 1983 to 2013. "It grew to include well-rounded academic collections for student use as well."

The university will now acquire a section of the library's academic collection to support the Siegal program, including its Hebrew and Jewish studies divisions. The JECC will acquire the Jewish education collection.

Friends of the Garber Library will continue to host activities that support adult Jewish education in the community. ●

© Cleveland Jewish News