He took his work very seriously and so too did The Temple, for they gave him ample secretarial support and retained what he wrote and what was written about him. It was as if they all knew that the day would come when scholars would want to use these papers for research.
The original home of the archives was at The Temple - Tifereth Israel in University Circle, where it was available to scholars. In the early 1990s the Western Reserve Historical Society was asked to assist by organizing the papers and microfilming them. Financial support for the undertaking came from The Temple and the Jewish Community Federation.
The huge collection of materials came over to the WRHS around 1992. The Silver Papers project personnel were three archivists: Tracy Backer, Deborah Shell and Jeffrey Zdanowicz, and a microfilm technician Bernard Watford.
They improved the organization of the materials, microfilmed the archives, and developed a finding aid (179 pages, dated 1994). As a consequence of Silver's energy and creativity and his synagogue's respect for his sermons, scholarly articles, civic activities, correspondence and clippings, the Abba Hillel Silver Archives are huge. As we are told below, to organize them took 5,779 file folders and to capture them 235 reels of microfilm.
A brief program on Sunday, November 13, 1994 (see CJN story below) celebrated the completion of the archiving and microfilming. Raphael Silver spoke on behalf of the family.
The Silver papers remained housed at the WRHS. Later in the 1990s, with the encouragement of the Silver family who believed that his papers would be better preserved and more available to scholars at the WRHS, the WRHS became their permanent custodian.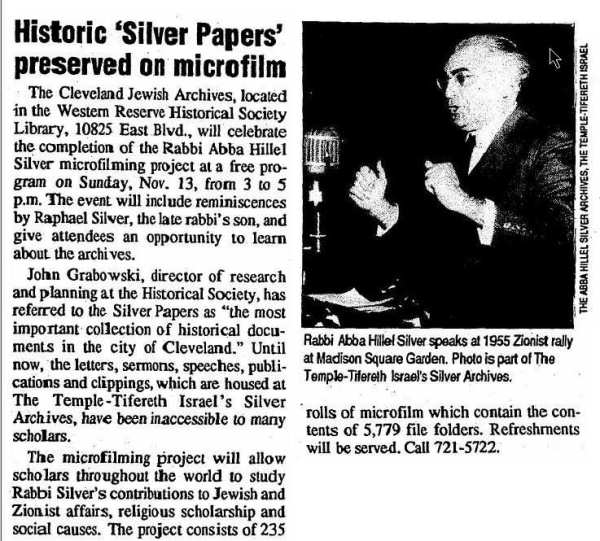 The Cleveland Jewish News of Nov. 10, 1994 announced the microfilming of the archives