Abba Hillel Silver was born Abraham Silver on January 28, 1893 in the Lithuanian town then named Neustadt-Schirwindt and now called Kudirkos Naumiestis.

From 1740 until the Holocaust the town was home to an organized Jewish community with many prominent rabbis and scholars. See larger map.
He was the fourth of six children born to Moses Silver and his wife Dinah. The Silvers lived as Russian subjects. Lithuania did not re-establish its independence until after World War I.
His father, grandfather and great-grandfather were ordained rabbis. But as there was no need for another rabbi in their small town, his father Moses Silver ran his father-in-law's soap business. Moses Silver was a Zionist and also spoke Hebrew, passing on both interests to his son.
Moses Silver emigrated to New York City in 1899, worked as a poorly-paid Hebrew School teacher and lived apart from his family until he could save the money for their passage to America. The Silver's youngest son died of pneumonia soon after Moses' departure. Bessie, the 13 year old oldest daughter, came to New York in 1901 and lived with relatives on the upper East side. In 1902 Dinah Silver with Abraham and the other three children came to New York. We show his boarding pass, with his name "Abe Silber" (or "Zilber") and arrival in New York on June 6, 1902.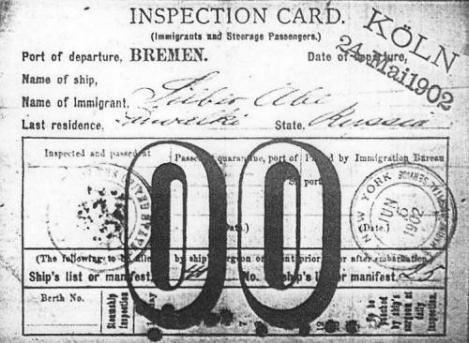 Source: Western Reserve Historical Society
The family, reunited after three years, lived on the Lower East Side at 360 Madison Street (see map).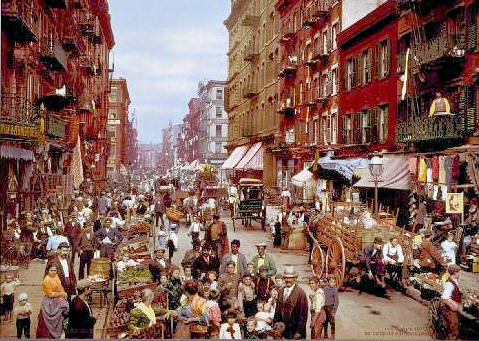 Lower East Side 1900 Collection of Lisa Ades, Jewish Museum
Zionism, an extraordinary devotion to the creation of a Jewish State in Palestine, marked Abba Hillel Silver's youth. He showed the activism. energy and eloquence that would become hallmarks of his later life. To learn more, see Dr. Rafael Medoff's biographical essay. For more on his childhood and youth, see Raphael, chapter 1.
His father, Rabbi Moses Silver, grief-stricken on the death of Theodore Herzl, suggested to his sons that they start a Hebrew-speaking Zionist youth group. Thus the Herzl Zion Club was born. Its members included Maxwell Silver and a younger boy Barnett Brickner (who in 1925 would become rabbi of the Euclid Avenue Temple).
"Abe" was a confident young man, respected by his peers, who sang in choirs, acted in plays and gave speeches. When the Herzl Zion Club performed The Exodus From Egypt in Hebrew, a newspaper critic praised the performance of the young man who played Moses: Abraham Silver. (Raphael, 7)
In his unpublished autobiography (in the archives at the Western Reserve Historical Society in Cleveland, Ohio) Silver cites where his oratorical inspiration may have originated. He wrote:
"Among my unforgettable memories of those years were the lectures of the Rev. Zevi Hirsch Masliansky which I attended regularly every Friday evening at the Education Alliance. Masliansky was the most popular preacher-lecturer on the East Side in those days. Thousands flocked to hear him. ... I sat every Friday evening in the wings of the stage of the Educational Alliance — Rev. Masliansky was fond of me and had invited me to sit there — and I listened to the captivating flow of his eloquence. After these many years I can still taste the sweet honey of his words." Quoted in Raphael (7)
See endnote on Masliansky.
Silver spoke at the 1907 Zionist convention in Tannersville New York, where he was the only youth present.
Young "Abe" Silver's leadership of the Dr. Herzl Zion Club suggests that the family continued to live in the Lower East Side until 1908 when Raphael (9) reports that the family now lived at 1488 Fifth Avenue. Like many others the Silver family had left the crowded Lower East Side and moved north to Harlem for lower rents and newer housing.
By 1910, when Silver was 17, his family had moved to another location in Harlem 232 (now 232-6) West 120 Street. See the census record below. For photos of this home, click here.
See endnote: Jewish Harlem