1883 Beryl (Ben) Linetzky
Minnie's

oldest son. Born in 1883 in Tetiev, Ukraine to Minnie and husband Aaron Linetzky who died several years later. In 1907, age 26, he married 24 year old

Rose (Chaya Rachel) Shpeen. They soon left for Cleveland via New York. Beryl then arranged for the family to come to Cleveland. He was in the barrel business, but not in Klausner Cooperage, until he died.
Lived on Thornhill Drive in Glenville (near Sam and Minnie) then moved into Philips Avenue house when Sam and Minnie left it for the Heights and lived there until his death in 1947.
Three children: Rae Linetzky Meieran, Lillian Linetzky Baker, and Harry Linet (in WWII captured at Battle of Bulge, made a war slave by the Nazis as he was Jewish, liberated by Patton's army)
Eight grandchildren, 10 great grandchildren and four great-great grandchildren.
Ben died in 1947, age 64; Rose died in 1969. They are buried in the Tetiever cemetery section, next to Sam and Minnie Klausner.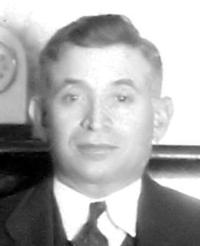 photo ca. 1937