Where they lived
In 1951, immediately after their marriage, Fred and Judy moved to what Fred now describes as "the third floor of a two family home" on Tuscora Avenue, in Glenville, near the Tetiever synagogue. Their first child, David, would be born there a year later.
In 1955 Fred and Judy moved to a house Fred designed and built on Lander Road in Mayfield Heights. Their second and third sons, Kerry (1955) and Bruce (1957), would be born there. They lived in that home for 34 years.
In 1989 Fred and Judy moved to Bentleyville, next to Solon, which in recent years has seen the arrival of many Jewish families. Fred designed the house which used all-steel construction.

Synagogue Affiliations
Fred grew up and became Bar Mitzvah in the Orthodox Tetiever synagogue on Linn Drive in Glenville, where his father and grandfather were long-time members. He remembers his grandfather Sam Klausner, a leader of the congregation, seated on the bimah during High Holy Day services.
In 1947 Cleveland had only two Reform congregations, "Silver's" (Tifereth Israel) in University Circle and "Bricker's" (Anshe Chesed) on Euclid Avenue and East 82nd, known as "The Euclid Avenue Temple". Two of the nation's largest synagogues, they saw that there was a need for another congregation located in the suburbs, where many young, unaffiliated Jewish families were moving after World War II. They worked with the national Reform movement to start Temple Emanu El, and chose a Cleveland native, Rabbi Alan S Green, to lead it. In just two years Emanu El would have 500 member families.
In 1963, attracted by Rabbi Green's intellect and character, Fred and Judy joined Temple Emanu El and have been active members ever since. Their three sons would be Bar Mitzvah there. In July 2008 Temple Emanu El moved from Green Road near Cedar Road, in Beachwood, to a new building in Orange Village. Fred played a large role in his temple's move.

Temple Emanu El's new home >
From Generation to Generation

1914: Grandfather Sam Klausner (fourth from left and wearing a ribbon) sits proudly at the dedication of the Orthodox Tetiever congregation's first building, on East 40th Street, just north of Woodland Avenue.
2008: Grandson Fred Klotzman and wife Judy stand proudly with past presidents and other leaders on the bimah of Reform congregation Temple Emanu El during its first service in Orange Village.
August 2008 - The Klotzman - Chang Wedding
Fred Klotzman's grandson Evan (Sam and Minnie's great-great grandson) marries
Cindy Chang in the first wedding in the new home of Temple Emanu El.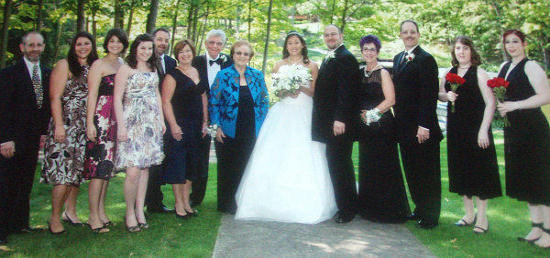 left to right: David Klotzman (son #1), Bruce and Ruth Klotzman's daughters Emily, Dori and Jill Klotzman, Bruce Klotzman (son #3) and his wife Ruth Robinson Klotzman, grandparents Fred and Judy Vision Klotzman, bride Cindy Chang Klotzman, groom Evan Klotzman (Kerry and Debe Klotzman's son), parents of the groom Debe Levine Klotzman and Kerry Klotzman (son #2) and their daughters Zoe and Brody Klotzman