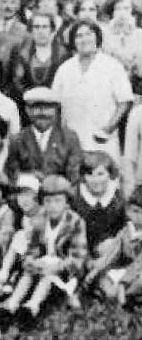 Meyer and Slova
at the picnic
Labor Day 1928

Epilog
The picture at the left, a small part of the group photo at the top of this page, shows Meyer Flock 56, wearing a cap and seated, and his wife Slova, 50, standing behind him in a white dress, They are a sturdy couple, proud to host the Jewish farmers of Northeast Ohio at their farm. In 2016 Sanford Silverman and Lil Milder, children of a farm family, identified them in the picture.
Slova Flock died in Mt. Sinai Hospital on January 5, 1966. She was 87. She left five children: Jules (Chagrin Falls), Philip (Auburn Maine), and Joseph Flock, Mrs. Sam Wyman and Mrs. Richard Kravitz (Cleveland). From Meyer and Slova had also come 22 more Americans: 10 grandchildren and 12 great-grandchildren.
In December 1965, only two weeks before her death, Slova had been honored at the annual meeting of the Jewish Community Center, then on Mayfield Road, east of Taylor Road. The photo at the right shows a beaming Slova Flock receiving the JCC Golden Ager award from Robert (Bob) Silverman, chair of its annual meeting.
Bob Silverman. a direct mail entrepreneur and a leader in Cleveland's Jewish community, was the son of a Northeast Ohio Jewish farming family. He was the brother of Sanford Silverman and Lil Milder.
On these happy coincidences we conclude our story of the Flocks, their farm, the picnics and the Northeast Ohio Jewish farmers. •
---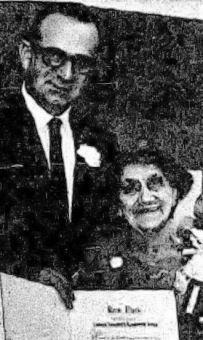 Bob Silverman and Slova Flock
Cleveland Jewish News
December 24, 1965