The Geneva Free Press story of September 4, 1928 (courtesy of the Ashtabula County Library, Ric Consiglio) tells us that the Jewish farmer families at the Labor Day 1928 banquet were told of Rabbi Abba Hillel Silver's gift of $1,000 toward a Jewish Center.
Marc Raphael, Abba Hillel Silverís biographer, tells us that Silver was very generous to those who came to him for financial help, but the sum of $1,000 then was more than a monthís salary, so it not likely to have been a personal gift from the rabbi.
The minutes of the Trustee meetings of The Temple, Silver's congregation, for 1927 - 28 have no mention of the gift nor of a letter of thanks from the Geneva Jewish farmers.

A search of Cleveland's Jewish newspapers from 1927 - 1930 finds no mention of a Jewish center for the farmer families.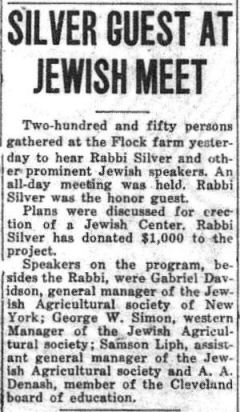 Could the gift have been from the Bureau of Jewish Education, which Silver helped found in 1924? Not likely as the BJE had to raise its own funds and supported only local programs. It would not get funds from the annual Federation campaign until 1931.
Then who gave the $1,000 and for what purpose?
The Abba Hillel Silver archives at the Western Reserve Historical Society are s great resource for research. They are nearly 100 lineal feet of papers, organized in nearly 6,000 folders and available on more than 235 reels of microfilm.
The detailed descriptions (Finding Aids) of the WRHS archives are online.

A search for farmers found a folder on the Geneva Jewish Farmers. The Finding Aid entry is shown below.