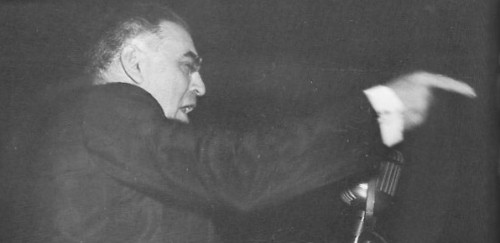 Photo (perhaps 1945) by Alexander Archer.
For a page of related photos, click here.
Rabbi Abba Hillel Silver was a life-long champion of the cause of a Jewish homeland in Palestine. He was more than a leader skilled in planning strategy and working at the highest levels; his powerful speeches were heard by tens of thousands. He would inspire Zionist rallies, appeal to non-Zionist Jews to accept the movement's goals, and appear before Christian groups to win their support.

For more on his Zionist activities as a boy, click here.
For some images of him in the 1945-47 period, click here.
This page will present only three episodes in his lifetime of Zionist activities. None of them were available on the web in 1998 when this site was created.
1943 - Abba Hillel Silver wrests leadership of American Zionism from Stephen S. Wise to lead it more aggressively.

1947 - His leadership that culminated in the U.N. partition resolution that established the State of Israel.
July 1943
Leadership of American Zionism passes to Abba Hillel Silver
See endnote: Stephen S. Wise
In May 1942 the Biltmore Program showed that Zionists were accepting Abba Hillel Silver's leadership, not Wise's. See endnote: the Biltmore Program.
Then in July 1943, at a large and contentious American Jewish Conference meeting in New York's Waldorf-Astoria hotel, Abba Hillel Silver rose to the leadership of American Zionism and with the support of David Ben Gurion displaced Stephen S. Wise. Two essays on the web document this.
These articles are well-written, carefully researched descriptions of a turning point in modern Jewish history. Medoff focuses on the change in leadership; Libo-Skakun covers a much longer time span. We suggest reading them both.
Although Wise would be listed with Silver as a co-chair, that was a gesture. Decisions were made by Silver only. The years of contention between the two had ended. Silver and Ben Gurion would work together to make history.
See endnote: Wise and Silver.
1947 The United Nations partition resolution
Abba Hillel Silver at the United Nations

Rejoicing after the vote
For larger photos, click here.
The left photo above shows the essential moment in Abba Hillel Silver's work to establish the State of Israel. As chairman of the Jewish Agency for Palestine he is at the United Nations in November 1947, seated in the first row. At his right is the Soviet Foreign Minister Andrea Gromyko. Seated behind him are Emanuel Neumann, Golda Meir and Moshe Sharett. Only David Ben Gurion, who shared leadership with Silver, is missing. He was delayed in Israel and for that reason Silver (introduced as Dr. Silver) presented the case.
What is being discussed will become U.N. Resolution 181, a plan for Palestine to be partitioned into an Arab state and one controlled by Jews. with Jerusalem being jointly controlled. (Nearly 60 years later, "two state solutions" are still being discussed.) To read the resolution, see how each nation voted and hear the votes being cast, click here.
Those familiar with Silver's eloquence can imagine what happened. He presented the case for Israel so movingly and effectively that the vote passed. Then we see the photo on the right: a jubilant Silver being embraced by Moshe Sharett.
Not so. It was not one dramatic day. In 1947 the U.N. investigated and deliberated not for a day or a week; its meetings spanned seven months, from May through November. Jewish representatives were allowed to sit in on most of these meetings. During the U.N.'s discussions and for years before there had been much work outside the U.N.: writing, speaking to huge rallies and conventions, meeting in small groups and one-on-one, garnering the support of people everywhere - politicians and the public, Jews and Christians.
Silver's public role in the U.N. campaign began on May 8 with a presentation to the First (Political) Committee. More speeches would follow: Moshe Sharett and David Ben Gurion on May 12; Abba Hillel Silver and Chaim Weizmann in October. Not until November 29 would the partition plan, Resolution 181, be approved. (See the timeline on the pages of the Israel Ministry of Foreign Affairs.)
The Zionist delegation, including Abba Hillel Silver, stayed in a hotel in New York. Silver would live in New York and spend his days there or in Washington, with many trips home to Cleveland for the weekend. He was completely focused on this process, thanks to The Temple having granted him an indefinite leave. His energy and drive were invaluable, his replacement of an ailing. less forceful Stephen S. Wise most timely, and his close working relationship with David Ben Gurion very effective. It must have been the best of times, for he was working to realize a lifelong dream.
The Spielberg Jewish Film Archive has made available much of his presentation before the Ad Hoc Political Committee of the General Assembly on May 8, 1947. The clip in incorrectly titled Day of Decision. Silver, introduced as Dr, Silver, can be heard starting at 2:34 Watch the video.

January 1948 Abba Hillel Silver confronts Harry Truman
"An American Zionist delegation met with Truman in January 1948 at the White House and demanded immediate help for the thousands of homeless Holocaust victims seeking refuge in a Jewish state. Truman's response was not satisfactory, and the visitors became adamant. Rabbi Abba Hillel Silver of Cleveland, Ohio pounded on the President's desk. Truman was outraged. "No one, but no one, comes into the office of the President of the United States and shouts at him, or pounds on his desk. If anyone is going to do any shouting or pounding in here, it will be me." (emphasis ours)

Truman had them ushered out of the Oval Office, and said to his staff. "I've had it with those hotheads. Don't ever admit them again, and what's more, I also never want to hear the word Palestine mentioned again." Truman had developed an aversion to Rabbi Silver, and once remarked that many of the problems of Palestine were due to terror and Silver."

It should be noted that this tale of a desk-pounding Abba Hillel Silver, though often told, is unconfirmed and in our view did not happen. more ....
Truman and the American Zionist leaders had a tense relationship, with Harry Truman coming to resent their "pressure" tactics. Yet, at the end Truman supported partition and had to counter our State Department's desire to do nothing that might endanger U.S. oil interests.

On May 14, 1948 at 6 pm (EST) the British Mandate for Palestine expired and the State of Israel was born. Eleven minutes later the United States became the first nation to recognize the new state. see document

Truman had recognized the strong public opinion in favor of U.S. support of the new nation.

David Ben Gurion declares the
birth of the State of Israel.
See also
a chronology
on the pages of the Truman Presidential Library.
---
To learn more

For more on his role in Zionism, in chronological order:
1953 - The Canadian Jewish Chronicle February 29, 1953 issue.
Abba Hillel Silver: History Maker by Dr Emanuel Neumann
Now available as a Google News Archive (sorry - link broken)

Emanuel Neumann and Silver were childhood friends on New York's Lower East Side and worked together at the highest levels of Zionist leadership. Neumann describes Silver's rise in leadership in the 1940s and what can only be described as struggles, for years, plotting and leading a course that would be successful.
1989 Abba Hillel Silver: A Profile in American Judaism
by Marc Lee Raphael
Chapters 4 through 8 deal with Zionism
more about this book ...
1997 - Raider, Sarna, Zweig

It was 34 years after his death that a serious study of his role in Zionism was published. Abba Hillel Silver and American Zionism by Mark A. Raider, Jonathan D. Sarna, Ronald W. Zweig. more about this book ...

The book was the outcome of a conference at Brandeis University, supported by Raphael Silver. Regrettably the slim volume was priced at $130 and so has had little exposure. In 2008 parts were put on the web in the Google® books online library. Click here.
2010 - Ofer Shiff
"Abba Hillel Silver and David Ben-Gurion: A Diaspora Leader Challenges the Revered Status of the "Founding Father"
A paper by Professor Ofer Shiff presented at the 2010 conference of the Association for the Study of Ethnicity and Nationalism. London School of Economics. Read the 20 page essay (pdf)

A carefully researched description in the differences between Silver and Ben Gurion, how Silver was removed from leadership roles in the US and World Zionist. and how, as Silver adjusted his views and behavior, he and Ben Gurion once again has a close, cordial relationship.

EPILOG
Israel, in accordance with the hard-won U.N. resolution, would proclaim its statehood on May 14, 1948. Less than 24 hours later the armies of Egypt, Jordan, Syria, Lebanon and Iraq invaded the new nation. The War of Independence had begun. The 15 month struggle would end in an Israeli victory, but 6,000 Israeli lives, nearly one percent of its Jewish population, would be lost. more... (Related to the U.S. population today, that would be a loss of nearly three million lives!)

David Ben Gurion, perhaps seeing Silver as a political rival, at the first opportunity that presented itself displaced Abba Hillel Silver, his partner in the struggle for Statehood, from Zionist leadership. They would reconcile many years later.
Abba Hillel Silver would return to Cleveland, to his Temple, where he would lead his congregation, speak and write until his sudden death on November 28, 1963.
Stephen Samuel Wise died in April 1949, having lived to see the founding of the State of Israel.
A two state solution is still being discussed to this day.