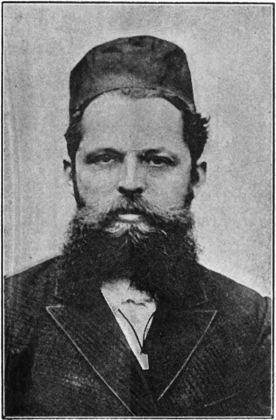 Zvi Hirsch Masliansky (age about 39)
Sent by Harry Boonin (www.Boonin.com) who found this image in a book published in 1895 in Manchester, England. Masliansky would leave for New York City in the summer of 1895. About nine years later he would be lecturing at the Educational Alliance where he would inspire many young men, including "Abe" Silver. What is a magid?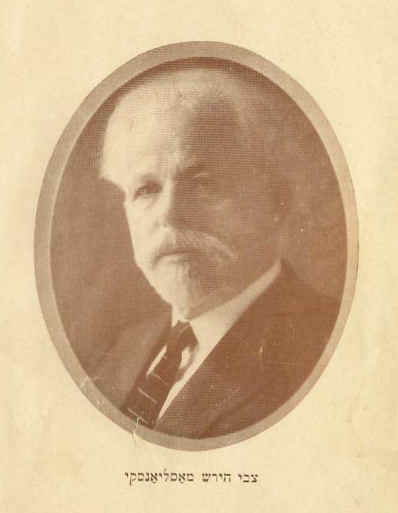 Zvi Hirsch Masliansky (probably in his late 60s)
From his autobiography Masliansky's Memories - Forty Years of Life and Struggle, written in Yiddish and published in 1924.

BIOGRAPHIES
Jewish Encyclopedia
MASLIANSKY, ZVI HIRSCH (1856–1943), popular Yiddish orator, the most eloquent and influential Maggid on the American scene at his time. Masliansky was born in Slutsk, Belorussia. He taught at the Polish talmudei torah and at the yeshivah of Pinsk (1882–90), where one of his students was Chaim Weizmann. Stirred by the pogroms of 1881, he became a proponent of the idea of a return to Zion. He was active in Hibbat Zion, and fellow-Zionists M. M. Ussishkin, M. L. Lilienblum, Ahad Ha-Am, and L. Pinsker encouraged him in his activity as a wandering preacher of Zionism. His fame as an impassioned orator spread rapidly throughout Russia.
Compelled to leave the country in 1894, he undertook a lecture tour of Central and Western Europe and in 1895 emigrated to New York. During the three decades that followed, he helped popularize Zionism, wielding a great influence upon Yiddish-speaking immigrants, especially through his Friday evening sermons at the Educational Alliance on East Broadway. He combined the qualities of a maggid and those of a modern speaker. He was able to hold the attention of a popular audience and scholars as well. His imposing figure further strengthened the impression he made. He was also active in U.S. Zionist organizations.
Masliansky founded and coedited the daily Die Yidishe Velt (1902–05). His Yiddish sermons were published as Maslianskys Droshes fir Shabosim un Yomim Toyvim (2 vols., 1908; Eng. tr. Sermons by Reverend Zevi Hirsh Masliansky, 1926). He also published a memoir, Fertsik Yor Lebn un Kemfn ("Forty Years of Life and Struggle," 1924), and a collection of Hebrew articles, Kitvei Masliansky (1929). [Sol Liptzin]

Source: Sermons by Reverend Zevi Hirsch Masliansky,
Published in 1926 by the Hebrew Publishing Company and found on the web at www.hebrewbooks.org/pdf/masliansky.pdf
Biography of Rabbi Masliansky (see note)
By Joseph Masliansky, Brooklyn, N.Y.

Stories as told to me by my father Aaron, who recalled every sermon.
Zvi Hirsh's father, Chaim and my grandfather Avraham Yitzchak's father, Yehuda Leib, were brothers.

For the most part, they lived in Slutzk, White Russia. The families were as one, and considered themselves more like brothers than cousins. Zvi Hirsh started to speak at a very late age and everyone thought that something was wrong with his vocal cords. Surprisingly, at the age of 7, to the bewilderment of his parents, on Shabbat Chazon, the Sabbath before Tisha B'Av, he picked up the table cloth from the Sabbath table, put it on as a Talis and spoke of the destruction of the Temple before his friends. His father, sensing the deep and innermost feelings of his son, scolded him for having taken the table cloth as it was not dignified to leave the table uncovered on the Sabbath.

His memory was fantastic. He knew the entire Tanach by heart at an early age. He was an ardent Zionist and traveled around Russia and Poland preaching for the cause and giving hope to the destitute, homeless and the poor. On one Saturday, he spoke in a synagogue about AVNER. Avner was a general of King David. But the audience knew the Avner that Masliansky was talking about. Not General Aviner but Avner stood for the initials of the Czar's name. Alexander Ben Nicholai Romanov. The first letters spelled AVNER. A Jewish informer who was in the congregation notified the Russian police and they-gave him one month to leave-Russia.

In New York, when he arrived, the Yiddish newspapers announced that Masliansky Yidaber, Masliansky will speak on that Sabbath at the Beth Hamedrash Hagadol on Norfolk Street, the East Side. Thousands came to greet him and the New York police had to make a path for him to enter the synagogue. He remarked, look how wonderful the new world is. In Russia he had to run away from the police and in New York, the police made a path for him. This happened in 1896.

In 1910, at a case involving the stopping of new and especially Jewish immigrants from Poland and Russia, brought on by the Commissioner of Immigration who was known as "Czar Wilson", Masliansky was called upon to testify for the unwanted refugees traveling in steerage. He made the following statement when confronted that what this country needed was muscles, brawn and strong backs to build the railroads and factories. His reply was "strong muscles and brawn can also make criminals and burglars who break locks. Strong minds and brains create a world of creativity and progress that builds a country." He created a stir and won the case. The refugees did not have to return to Europe. His strong words were and are responsible for all of us to be in the U.S. today. We too could have perished in the Holocaust had our grandparents and parents been denied entry to this country."
Note: Though Masliansky always called himself 'Reverend' many of his supporters believed he had been ordained in Russia. Dr. Gary P. Zola's study of Masliansky makes no mention of Masliansky's ordination.

As an influence on Abba Hillel Silver

From the Youth page of the Abba Hillel Silver website:

In his unpublished autobiography (in the archives at the Western Reserve Historical Society in Cleveland, Ohio) Silver cites where his oratorical inspiration may have originated. He wrote:
"Among my unforgettable memories of those years were the lectures of the Rev. Zevi Hirsch Masliansky which I attended regularly every Friday evening at the Education Alliance. Masliansky was the most popular preacher-lecturer on the East Side in those days. Thousands flocked to hear him. ... I sat every Friday evening in the wings of the stage of the Educational Alliance — Rev. Masliansky was fond of me and had invited me to sit there — and I listened to the captivating flow of his eloquence. After these many years I can still taste the sweet honey of his words." Quoted in Raphael (7)

Respect for Masliansky spans the Jewish religious spectrum
His archives are found at The Jewish Theological Seminary.


He was the subject of a 1982 rabbinic thesis at Hebrew Union College. The author, Dr. Gary P. Zola, now directs the Jacob Rader Marcus Center of the American Jewish Archives. more


A document on the site of the Orthodox Union. Click here. pdf
It has an anecdote to explain why he didn't call himself "rabbi".


"We learn about Rabbi Tzvi Hirsch Masliansky and his negotiating for a new position in New York. The president of the shul mockingly pointed to a wall-painter working in the room. "What? You want to earn as much as a shmirer? " Rabbi Tzvi Hirsch responded that if rabbis in America were likened to shmirers, then he would not be a rabbi! Thus, he remained "Reverend" Masliansky for the rest of his career as a popular orator, although he had been ordained by some impressive sources in Europe."
Masliansky's role

Dr. Gary P. Zola, in his study of Masliansky, calls him "Matif Leumi" - The National Preacher. Soon after arriving in New York in 1895 he altered his appearance, his beard becoming a more modern goatee, and changed his speaking style. Still preaching in Yiddish, but no longer speaking only of Zionism, "Masliansky preached a love of Judaism and a pride in Jewish peoplehood." He was admired and supported by established, wealthy, largely German-Jewish "Uptown" Jews and loved "Downtown" by the newly arrived Yiddish-speaking Jews from Eastern Europe".
Zola writes (p. 36) of Masliansky's lectures. "Delivery was spellbinding. His voice was a full tenor and his movements were startling and dramatic. He thundered and whispered - captivating his listeners for up to two hours."
We can only imagine young "Abe" Silver seated near the podium absorbing this and then read an account (only ten years later) of Silver's own oratorical style.
By the 20's Masliansky's audiences had declined significantly and in 1927 he resigned his position at the Educational Alliance.
Masliansky died January 11, 1943 age 87. His funeral was attended by many leaders of American Jewry and the Zionist movement, including Rabbis Stephen S. Wise and Abba Hillel Silver and Dr. Nahum Goldman.

Added August 2010
Abba Hillel Silver's eulogy of Zvi Hirsch Masliansky

To learn more about Masliansky
The "uptown" supporters of Masliansky's work

His advocacy of immigrant self-development, responsibility, setting aside nationality differences and adopting American values resonated with New York's Jewish elite. They supported his work at the Educational Alliance and backed his newspaper
Die Yiddishe Welt
. (
More in a Google book
)